Introducing IncognitoDesk
After years of developing software for others, we're proud to present our first platform.
IncognitoDesk lets you create your own online information and support service, with no complex coding or configuration.
It differs from CRM and sales software in its emphasis on customer anonymity, enabling the creation of secure spaces for exchanging sensitive information.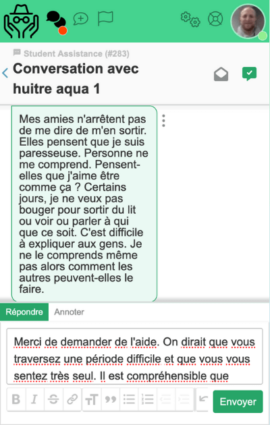 Connecting needs to solutions
Since its creation in 2005, M2i3's mission has been to "connect needs to solutions" by making Internet technologies accessible to businesses and individuals.
We offer IT solutions tailored to your business. We have extensive expertise in software creation.
Through OpenSource software
If you need light, you don't invent the light bulb. The same applies to software. The same software that runs most of the applications you already use enables us to bring ideas to market much faster than creating proprietary software alone.
Thanks to agile project management
And no, we're not talking about SCRUM. We're talking about the values behind the Agile software development manifesto that favor people and interaction, working software, collaboration and adaptation to change, as opposed to rigid processes, tools, plans and documentation.
Through active curiosity
We're curious about what's going on in the world, because ideas from elsewhere are tools that can be applied to solve problems in another field. It's really a question of perspective.
Do you have a project that could benefit from our perspective?
Even when we're busy, we're always ready to see if we can help bring the next great innovation to life. If you think we can help you turn your idea into reality, send us a message.